The project team has a working demo, not the final product. Their ability to begin production may be affected by product development or financial challenges.
Regular price
$135.00 USD
Regular price
$190.00 USD
Sale price
$135.00 USD
Unit price
per
Sale
Sold out
In what way and when will you do the delivery?

All shipments of product will be completed by air. Most areas can be delivered in 7-10 days and the first shipment will be completed by June at the latest.
Will you ship to my region/country?

Yes, we offer worldwide shipping.
How to track logistics information?

You can track the logistics information via the order details in the BackerGeek back office. Alternatively, you will be notified of the shipping information by email.
If there is a quality problem, what should I do?

Our customer service email: hello@backergeek.com

Cleaning is one of the most exhausting tasks in the world. Unfortunately, it's something you need to do just about every day. 
Do you have a stash of cleaning supplies, but still find cleaning is tedious, exhausting, and boring? In the world of cleaning, more tools often mean more trouble. 
PARRIOR Alpaka Electric Spin Scrubber, a simple tool that can meet (pretty much) all your cleaning needs. From bathroom to living room to kitchen and even your car, you'll be amazed by how powerful and versatile it is!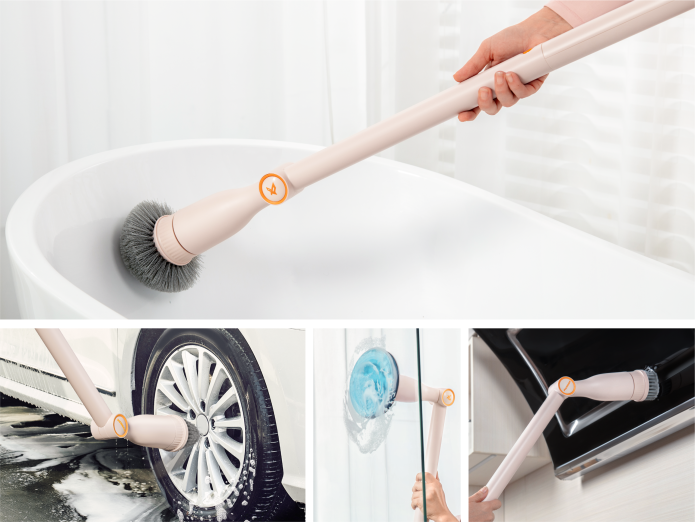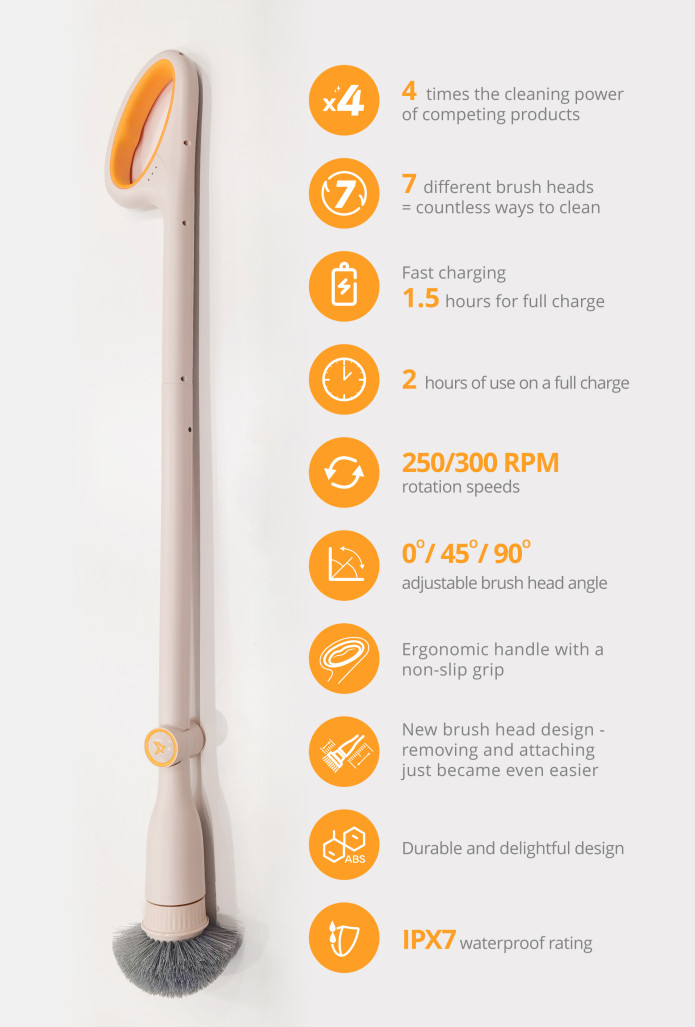 It may be small, but it's crazy powerful. Our engineers have worked their magic to not only develop a more compact motor but quadruple its power(31Ibf·in, 7.4V, 45W, 250/300RPM).

While most products on the market take 3-6 hours to charge fully, The PARRIOR Alpaka takes just 1.5 hours. You'll get 2 hours of continuous use from a full charge, and if you're short on time, just give the Alpaka a quick 5-minute charge and you'll be able to use it for 15 minutes.

Snap-on assembly

 

- just pop and go.
Universal mounting interface

 

- mix and match your brush heads.
Push to adjust the angle of your brush head

 

(0°/45°/90°)One button. That's all you need to master.
Turn on/off, change 2 speeds.

 

250RPM for regular messes, 300RPM for stubborn stains. 

Our classic round brush was designed to tackle curved surfaces like your bathtub and sink. The elongated design of the Alpaka lets you scrubber without needing to bend over or get your hands dirty.  Based on our tests, the Alpaka needs just 3-5 minutes to thoroughly clean a tub, leaving you more time to take a relaxing bath! The IPX7 waterproof scrubber head can be used in the bathtub and soaking areas.

Corners are difficult to clean which make us feel tiring and uncomfortable!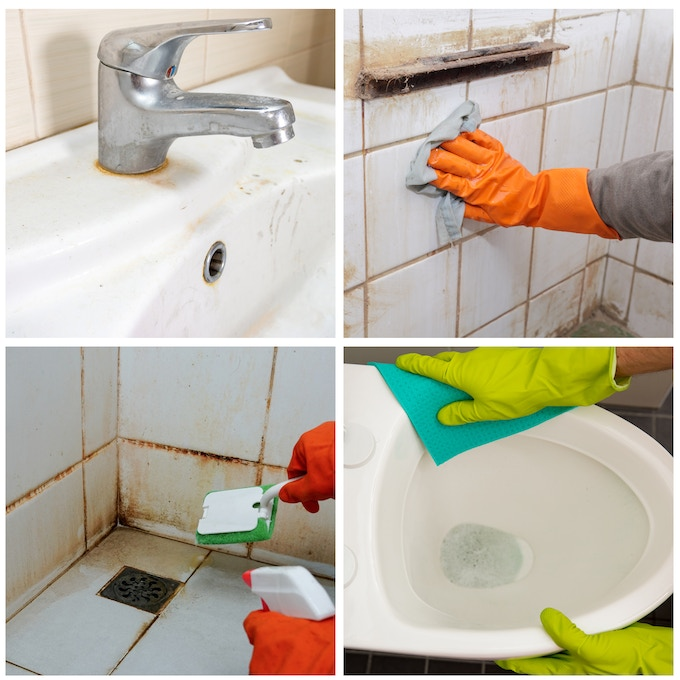 The Tapered Brush: Conquer all sorts of challenging surfaces, like tile seams, angles, overflow holes, grout lines, and corners. Cleaning has never felt this delightful!

Use this brush to clean large surfaces, like tiled floors and windows - it's great at getting out stubborn stains.

The small flat brush is fantastic for kitchen counter stains,stoves and range hoods.

With our hair sweeper brush, you can easily rid your rugs and carpets of hair, pet hair, tissue paper, and fluff.(Tip: hard objects and extremely long hair will jam the brush head!)

The sponge brush is perfect for glass, mirrors, and even washing the car. Works even better if you add a cleaning agent that will create a layer of fine bubbly foam! Use the towel brush to wipe those surfaces clean after you've given them a good scrub.

Our free custom hook supports up to 15.4 pounds of weight, so just hang them up!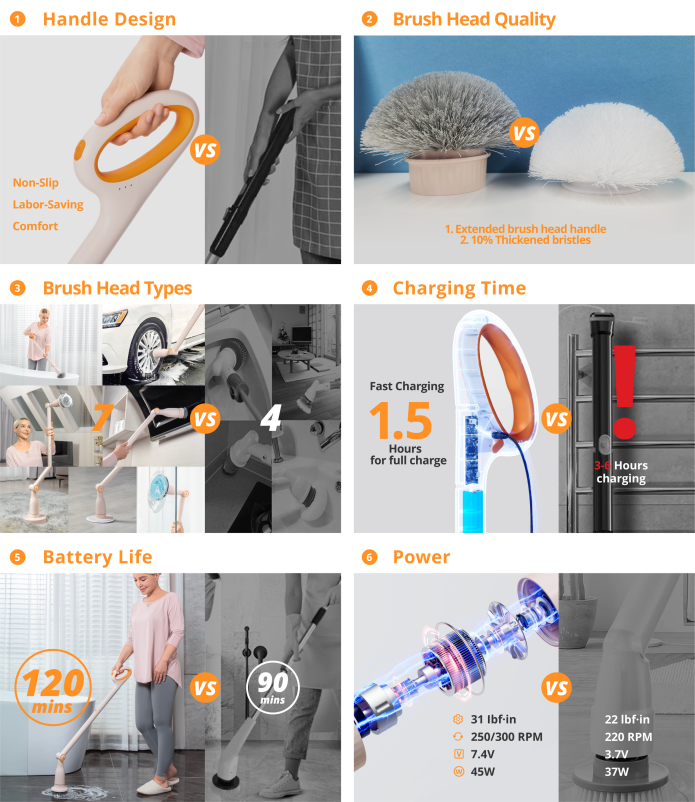 1. Ergonomic handle with a non-slip grip: The ring handle design and the soft rubber material used for the inner ring ensure that the machine can be operated and controlled with one hand, you will feel labor-saving and comfort!
2. Extended brush head handle: A longer brush head handle not only makes removing and replacing the brush head so much easier, but also lets your keep your fingers away from all the grime you've scrubbed.
3. Thickened bristles: Thickened bristles can increase the service life of the brush head by up to 10%. We've also widened the bristles of the Round Brush Head to maximize the surface area of each bristle, delivering increased efficiency .
4. Improved bristle quality: Our bristles are more durable, and won't scratch your bathtub, tiles, and other surfaces. You have to feel them for yourself!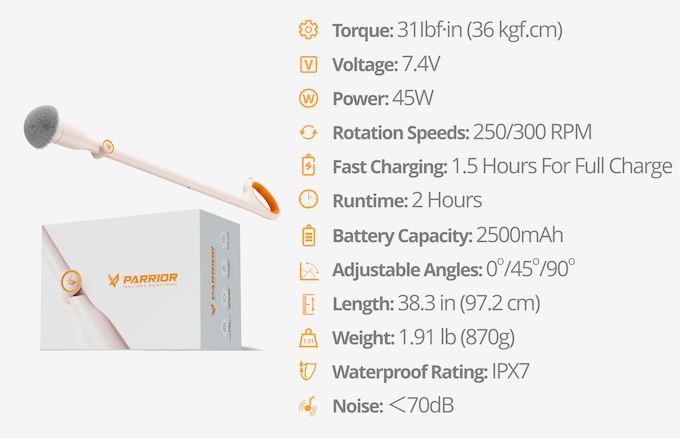 View full details